Childhood or infant obesity is increasingly one of the complex health problems in children today. Some of the known causes of obesity in infants are actually similar to those that cause obesity to adults including personal behaviors such as dietary patterns, physical activity, medication use among others and the genetic ones. The society also contributes to this problem by providing certain foods and physical activity environments, education and skills and finally the kind of marketing and promotion campaigns carried out to promote some products.
Health Risks Associated With Infant Obesity
If parents don't observe the above guidelines regarding obesity, the condition can have serious health risks going forward in various ways including:
Greater risks of increased blood pressures and high cholesterol levels which can lead to cardiovascular diseases
Greater chances of increased risk of impaired glucose tolerance, insulin resistance and even type 2 diabetes
Breathing issues including sleep apnea and asthma
Joint problems and musculoskeletal discomforts
Moreover, such children are also more likely to have fatty liver diseases, gallstones, and gastro-esophageal refluxes, psychological stress including depression, low self-esteem, low self-reported quality of life, impaired social, physical and emotional functioning.
Parents have a bigger role to play to make sure their kids don't become obese. Here are a few do's and don'ts that parents should keep in mind.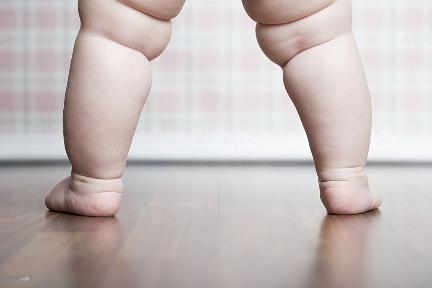 What Parents Should Do
Mothers should ensure they breastfeed their children given breastfeeding reduces the chances of childhood obesity.
Establishing some ways to soothe a baby is another way a parent can contribute towards reducing instances of child obesity such as finding a calmer place for the baby and not breastfeeding them every time they start to cry.
Parents should limit the use of media devices such as TV to their small children. Research done by the American Academy of Pediatrics indicates that children who watch TV and are below 2 years of age have greater risks of becoming overweight.
Lastly, parents should adopt health behaviors such as a healthy diet pattern and establish regular physical activities for their children. This is because the energy balance of the number of calories children consume daily from foods and beverages compared to a number of calories a child's body uses for activity plays a major purpose in preventing excess weight gains. Parents should follow a strict healthy diet plan by emphasizing that their kids consume whole grains, fruits, vegetables, lean protein, low-fat and fat-free dairy products and drinking water. Children should have a minimum of 60 minutes of a balanced physical activity daily to avoid obesity. Thus, a healthy diet pattern and regular physical activities play a crucial role in long-term health benefits, in addition to preventing a list of chronic diseases such as heart disease.
What Parents Should Not
Parents should not decide on restricting a baby's caloric intake since it is almost a bad idea without consulting their child's pediatrician first. Insights from the child's pediatrician are important before parents conclude to put their babies on any kind of special diet.
The food items to avoid include processed foods (especially pizza, burger, chips, cookies) and artificial fruit juices and cola beverages.
Finally, parents should discourage unhealthy habits like binging especially during watching TV, unrestricted sedentary activities such as use of computer/ laptop, smartphone, simulated games, etc and fasting and feasting.