Does your diet go on a vacation too when you're traveling?
Traveling can often pose challenges to those on a diet. A vacation is usually considered as an excuse to go off-track from your diet by indulging in over-sized meals or foods with high fat or leaving the exercise in a corner.
But, if you plan well in advance, you can have your cake and eat it too. It does not have to be a hilly road. Here are some tips to manage your health when on vacation:
Pack a Meal
Carry some nutrient-dense foods packed with yourself like multi grain/whole wheat bread sandwiches, multi-grain flour theplas, a pack of raw salads (carrot/cucumber sticks), fruits, low-fat yogurt, roasted chanas / soya beans, sports bars, khakras / dal khakras, etc. In this way, if you are stuck in a place with bad eating options, you would have healthy options in hand when you're hungry.
Stay Hydrated
Instead of over indulging in dehydrating caffeinated and alcoholic beverages, it is recommended to carry bottled water. Ask for sparkling or flavored waters, they are a great alternative too.
In flights, low humidity and re-circulation of air is a good setup for dehydration which, in turn, can cause fatigue. Have a thumb rule of having a glass of water every hour.
Do Not Skip Meals
Skipping meals when on a holiday is considered as an option to save both money and calories. But, it is important for one to understand that the chances of over-eating in the next meal increases. Eating controlled portion-sized meals every 3 hours is essential to keep the metabolism high.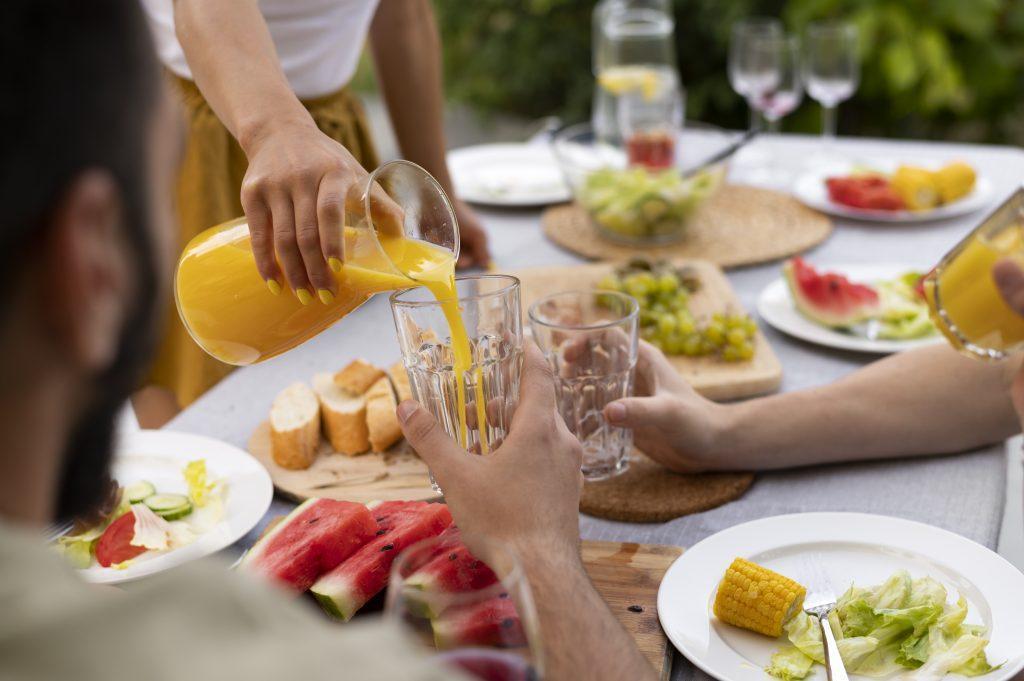 Continue on Your Exercise Regime
'No gym in the hotel' is no excuse to fall off from the workout wagon! There are varied refreshing activities one can indulge in to stay fit like swimming, hiking, yoga, stretching, push-ups, etc
Also, walking, running or cycling around the area is a great way to discover a new place and get outdoors.
Choose Your Meal Options Carefully
Order judiciously while in restaurants. For example, when in an Italian restaurant order for pastas with Arrabiata sauce or whole wheat, thin crust pizzas with more of vegetable topping or when in a Chinese restaurant choose clear soup or stir-fried vegetables with Tofu.
Choices like baked over fried or stir-fried over buttered are wise ones which would help you in saving those extra inches.
Remember that your holiday is not only about food and while you're not on your regular routine it is very easy for you to break that diet. You don't need to sacrifice on good nutrition just to have a good time.
Choose wisely. Bon voyage!