If you're living with diabetes, it's essential to ensure your diet is healthy and nutritious for your health. An excellent way to start is eating food that is low on the glycemic index (GI), an index that measures how quickly a given food raises blood sugar levels compared to pure glucose. This can help prevent spikes in blood sugar after meals, especially if those meals include sugar or refined carbs like white bread or white pasta. We understand, it's tough giving up on them entirely but just cutting back on them as much as possible and replacing them with healthier alternatives like whole grains and fresh produce can actually help.
Diabetes Superfoods To Include In Your Diet
"Not all people with diabetes need drug therapy. A healthy diet and exercise alone can be enough if the person makes significant lifestyle changes. This health condition can be prevented by following a low glycemic load diet (basically, a diet low in sugar), staying physically active, and getting regular medical screenings." – MedicineNet
Doctors and nutritionists across the globe recommend food with a low glycemic load (index), which include food high in fiber, protein, and fats like vegetables, fish, chicken, beans, fruits, whole grains, nuts, low-fat dairy, and lentils.

Here's a Handy List
Plantains
Vitamins A & C, potassium, fiber, folate, and copper keep the sugar level in check.

Beans & Lentils
Fiber and protein, and low in fat, carbohydrates, and calories. High in vitamins and minerals such as iron, magnesium, and potassium, lentils contain folate (folic acid), which may help lower homocysteine levels in the blood – a risk factor for heart disease.

Seeds (fenugreek, psyllium, pumpkin, pine, sunflower)
Lower the blood sugar by affecting the rate of digestion of starch and other carbs.

Dark Chocolate
Contains antioxidants that help fight free radicals in the body. These are molecules that cause damage to cells and DNA.

Leafy Vegetable (spinach, kale, collard greens, bitter gourd, methi)
Magnesium is a mineral that helps your body's insulin work like it should.

Berries (blueberries, strawberries, cranberries – any berry)
Loaded with disease-fighting antioxidants and fiber.

Fatty Fish (salmon, tuna, mackerel, and sardines)
Packed with healthy omega-3 fats, which lower inflammation. They protect against heart disease and an eye condition called diabetic retinopathy.

Nuts (macadamia, walnuts, almonds, peanuts, sunflower seeds, hazelnuts & more)
Makes you less prone to heart disease as nuts are full of healthy fats, protein, and fiber and keep your blood sugar steady.

Whole Grains (whole oats, farro, brown rice and quinoa) and millets (foxtail, kodo, horse gram)
Contain vitamins and minerals, like heart-healthy magnesium.

Sweet potatoes With Cinnamon
Help your body use insulin better and have extra fiber and vitamins A, C and potassium.

Fruits (citrus fruits such as grapes, tangerines, oranges, and guava)
Vitamin C and heart-healthy folate and potassium.
Non-fat Milk and Yogurt
Vitamin D helps your insulin work better and is a good source of bone-building calcium.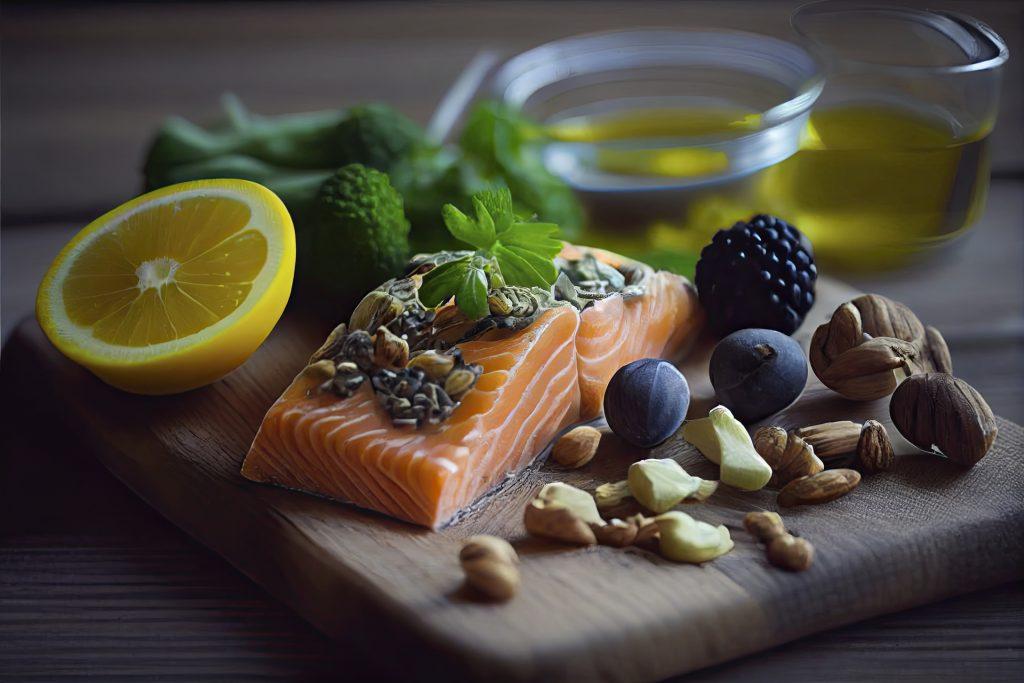 When people with diabetes consume too many carbs at a time, their blood sugar levels can rise to dangerously high levels. You might have to dial down heavily on carbs-rich food such as french fries, white bread, rice, pasta, chips and crackers. Also, avoid trans fats that are found in margarine, peanut butter, spreads, creamers and frozen dinners. Even sugar-sweetened food items disguised as healthy options, such as beverages, flavoured yogurts, sweetened breakfast cereals, flavoured coffee drinks, honey, agave nectar, maple syrup, dried fruit, and fruit juices, are to be taken in moderation.
Diabetes is a severe condition that can lead to complications such as heart disease and stroke, so taking your medication and eating right is essential.