What is Digital Health Data?
Every time you enter a doctor's clinic, a hospital or a diagnostic center, you generate fresh health data captured in your health records. Your health records are a detailed biography of your health parameters that are used by different stakeholders such as your doctor, hospitals and in some cases insurance companies in the healthcare ecosystem. Most of this health data gets digitized on the business side of the world, for instance, your insurance providers or hospitals probably have your medical records in a digital format also known as Electronic Medical Records (EMR) or Electronic health records (EHR). Multiple stakeholders utilize this data for different purposes. However, the patient does not technically have any control on this data that is being maintained by his or her medical provider or hospital. Of course all health data is well secured using multiple data security protocols and access control so that the patient's data is protected. The paper trail of the same is given to the patient for the purpose of record keeping and for future use in case the patient needs to visit a doctor again.
State of Health Records Management in India
While there is a lot of good change happening in the healthcare digitization space and many stakeholders are adopting a digitized healthcare ecosystem, the Indian healthcare system even today is still largely dependent on physical health records. Furthermore, hospitals and medical diagnostic labs in India have to save an adult patient's records for up to 3 years, a child's records for 21 years, and a chronic patient's for lifetime, most of which are in the form of paper based medical records. Managing this data in its physical form is extremely cumbersome considering the sheer scale of healthcare operations. Issues with physical health records management such as misplacement and disintegration of records over time are commonplace. Furthermore, time, personal effort, and other resources are heavily invested in creation and management of physical health records. All these factors result in not only higher expenditure but also higher carbon emissions and thus increased carbon footprint of the healthcare industry.
The global healthcare industry's carbon footprint is equivalent to 4.4% of global net emissions and considering the size of our country and its healthcare requirements, India ranks amongst the top 10 countries accounting for 75% of healthcare's carbon footprint. It is ironic that the very framework that supports better health is also responsible for problems such as pollution and rise in carbon emissions that are detrimental to our planet and consequently our health. Isn't it time that we did something about it?
What is a Digital Health Record or a Personal Health Record (PHR)?
A personal digital health record is different from the EMR or EHR and also a major contributor to the carbon footprint of the healthcare ecosystem. A simple solution to minimizing this impact is a PHR app to digitize your health records. What does that mean you ask?
In simple words, if you chose to scan all your physical health records and started maintaining a digital copy of the same in a secure vault that can only be viewed or shared with anyone that you give access to, this will be your own personal digital health record.
Personal health records are a quick and easy way to stay in control of your own health information and use the same to take necessary actions for better health. A personal health data does not always have to be a "medical" record. Even something as simple as tracking your blood glucose trend or your weight or changes in your moods can be important determinants of health that can be used by medical professionals to prevent larger health issues or when needed provide relevant and timely diagnosis and care for better health outcomes for you. However, we can not always visualize these trends or nuances easily in a physical format. Can you imagine yourself finding the time to draw charts and graphs for your symptoms and analyzing the same? We would all need to either be masters of statistical analysis or outright crazy to do that. This is relatively easier to do in the digital world though. All you need to do is digitize your health record using a PHR App or locker and let the technology work its magic for you to provide you insights into your health that you would otherwise miss or not pay attention to.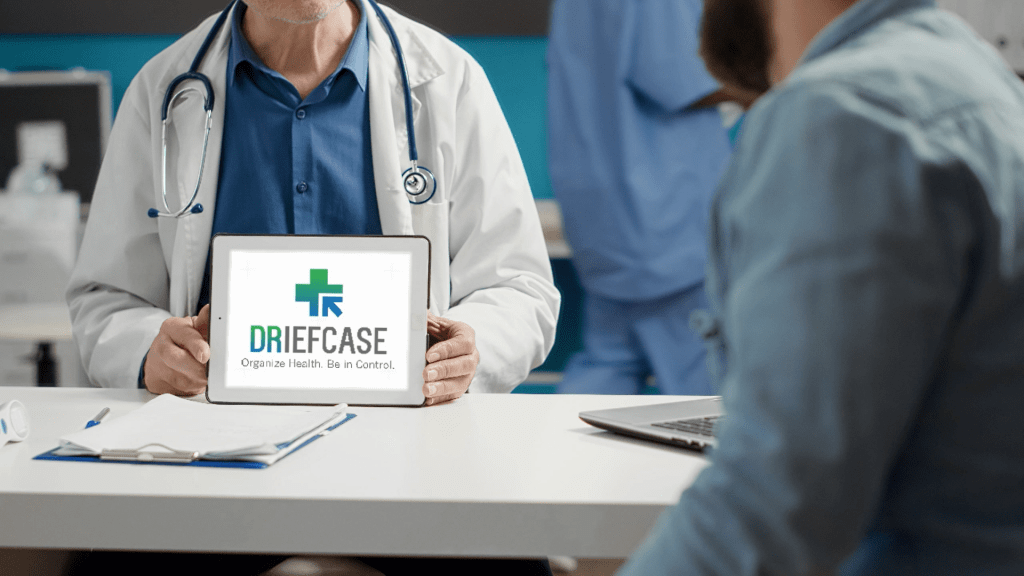 What is a PHR app?
A PHR app (or Personal Health Records) management app enables you to digitally save and organize your physical health records in a secure and confidential environment with access control. Thus, you can go paperless with your personal health records and share them with your healthcare providers as and when requested. Digitizing physical health records makes it easy for healthcare providers not only to give you a better and faster diagnosis and health outcomes but also start tracking your medical history to prevent any future health emergencies.
The PHR app such as DRiefcase not only allows you to digitize your health records but also allows you to keep track of your family's health records in one family account. Patients can set necessary access controls and share only what they want to share when they need to do so.
To know more about PHR apps, click here.
Why should you care about digitizing your health records?
The shift to digital health records helps you, the patient, have more control over your health in several ways as mentioned below:
It enables you to maintain a consistent medical history that is easy to access and can be securely shared with your healthcare providers within a second and without having to wait in line at the doctor's office. In turn it enables your healthcare provider to provide a better health diagnosis for you, eventually leading to better health outcomes.
It also enables you to take care of your loved ones from anywhere and keeps you ready in case of emergencies.
A well-managed medical history for you and your family means no duplication of tests and greater savings on health.
Overall, a better health outcome for you and your family anytime from anywhere and it's good for the environment.
If that's not enough, here is a glimpse of how digitizing health records can lower the carbon footprint of the healthcare industry: According to a report, when 8.7 million patients made the shift to digital health records, it resulted in the elimination of 1,000 tons of physical records and 68 tons of X-ray film! Additionally, gasoline consumption reduced by 3 million gallons per year, as patients no longer needed to make trips to collect physical health records.
We at DRiefcase are pioneers in making the digitization of health records a seamless process through our robust, hassle-free technology interface and patient-first approach.
On this World Environment Day, let us pledge to join the digital revolution that will pave the way for our planet's well-being.